After getting up bright and early, I headed over to the Convention Center to kick Mike's ass at Doom. Arriving really early, I headed over to watch Bridget and Mary Jo load a horde of MSTies onto a bus bound for the Mall of America. The winners of "Shop Ahoy" were bound to have a great day. Later on, I heard that Donna Melee (who entered her name in the drawing several dozen times) showed up but wasn't allowed to join them.
Soon enough, it was time to face my destiny…facing Mike in Doom. From outside the locked doors, we couldn't tell what was going on. The peephole could only tell us that two people were playing Doom using the giant screens in the front of the ballroom. Looks like someone was getting in some practice.
After letting everyone into the ballroom, the challengers were asked to sit in the front row by Juliewa. Mike had a custom level loaded which nobody had ever seen before. He had probably played it for months or years. The plan was to take on each of the challengers one at a time for about five minutes each.
After a handful of challengers were blown away, Mike encountered a fearless MSTie known only as "Rusty". The crowd chanted his name as Rusty slowly climbed the stairs to the stage. Jim Mallon was there to coach him on…if needed. Rusty sat down in front of one of the computers…right in Jim's lap. Mike knew he couldn't kill Rusty and he felt set up. If Mike killed a five-year-old at Doom, the audience would never forgive him.
As it turns out, the Rusty/Jim combo was unbeatable. They killed Mike four times. As time was running out though, Mike managed to kill the Rusty/Jim juggernaut once.
Before long, it was my turn. Knowing that some "expert" Doom players didn't show much of a chance (and obviously, neither did the beginners), I knew that the hours and late nights I spent playing Marathon a year ago wouldn't be much help.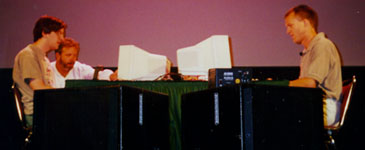 When Paul Chaplin called me up to the stage, he held the microphone to me and asked if I had played Doombefore. I replied, "Real men play Marathon." This drew a strong reaction from the audience and from Mike. With some coaching from Kevin Murphy, I began to search for some useful weapons.
From watching everyone die before I played, I got to learn the map a bit. Apparently, not good enough. It didn't take Mike long to kill me. "Is Marathon a game where you run around and pick flowers?" he asked. I ignored his tauntings and ran around like a chicken with its head cut off. "You're a runner," he noted. Mike was right…I knew that if I stood still, I became a target. Unfortunately, I couldn't aim to well while running and missed some health bonuses, fell off cliffs, and got cornered by Mike.
Before I knew it, Juliewa told us that time was up. I was rewarded with a MST3K: The Movie poster and a pin which said "Mike killed me @ DOOM". I returned to my seat to watch the continuing carnage and continuation of personalied taunts from Mike. Final score? Mike: 100+, MSTies: 5.
After this event, everyone was instructed to leave so they could set up for the Celebrity Q&A. I returned to my room to drop off my poster and returned back to the convention center so I could sit in line for an hour.
The Q&A speakers were introduced by Kevin Murphy. First out was Kim Catrall who was overwhelmed by the standing ovation. Next up was "and the rest", the Professor from Gilligan's Isle Russell Johnson. Finally, Kevin brought out the star of This Island Earth, Rex Reason.
Kevin started the questions and then moved on to letting the audience ask some questions. Kevin asked Kim to explain the love affair between her and Crow. After explaining that she saw him late one night singing her name and was in love ever since, Trace ran out and handed Kim a bunch of roses and then ran backstage.
One of the funniest questions from the audience for Mr. Reason was "What was the smoke in the giant bongs made from?" Rex, not hearing the question, asked what he said. Without missing a beat, Russell started describing a bong to Rex with his hands. The audience was laughing for several minutes.
After the questions, the celebrities signed autographs for the MSTies.
I left without getting an autograph. I had bigger plans. I returned to my room to get my movie poster and three ads for The Tom Servo Fan Club. Then I headed over to the MST3K autograph session.
After watching some Sci-Fi Channel anime while waiting, I got to have my poster signed by each cast member. I told Trace that we appreciated his many years on the show and would miss him and then turned to get Kevin's autograph on the poster. While he was signing, I got out the ads and handed them over. He thanked me for them, said they were great, and that he'd be checking in again soon.
Since I used up my final picture on Jim Mallon, and since I had to put the movie poster back in its tube, I paused to get situated. After getting the poster back in place, I opened my camera to put in new film…and I realized in all the excitement that I forgot to rewind the film. Oops! I took pictures of all the infividual cast members again just in case they were lost and headed out of the room. As it turns out, I only lost two pictures.
On the way out, I was stopped by Miami Mike, the MTN MSTie. He interviewed me about building a Tom Servo and about The Tom Servo Fan Club. After he finished up, I headed back to my room.
Having some time to kill before the costume ball at 8pm, I headed back to the Hilton to see who was hanging around the Internet MSTie room. Soon, hunger caught up with me and I had to seek out food. I wandered down the Skyway and managed to find a Burger King. It was the only place I found open for about 5 blocks!
After loading up on burgers and a chicken sandwich, I headed back to the MSTie room to finish my drink. Everyone was getting ready for the costume ball. I didn't have a costume, but wished I did. It would have been fun.
After checking out the ending of a MST3K episode in a screening room, I headed out to wander the city until the costume ball began. After about an hour of wandering the streets of Minneapolis, I returned to my room to get my badge and camera and then headed over to the Convention Center.
As I entered the main hall of the Convention Center, I saw Trace surrounded by fellow MSTies snapping pictures. The inside of the hall had a domed ceiling decorated with shiny, inflated tubes. There were hordes of MSTies inside dressed as everything from Tom Servo to Torgo and Mentos to waffles. Quite the entertaining crowd.
Soon, Mike and Bridget took the stage to hold the costume contest. Kevin, Mary Jo, and Paul were the judges for the event. It took a few hours to get through all the costume categories. At the end, Mike called all the "AOL MSTies" on to the stage. (Actually, it was supposed to be all Internet MSTies too.) They presented Juliewa with a quilt and chocolate as a goodbye present. (Actually, when it was organized, it wasn't known that she was leaving Best Brains after the convention.)
After some dancing, I decided to head back to leave behind my camera. I had used almost all my pictures and was tired of carrying it. When I arrived in my room, I grabbed a glass of ice water and turned on the TV. I figured I'd rest my feet for a minute or two and return back to the ball later.
I woke up at 2:30am to find a psychic infomercial on TV. Oh well…I was tired so I went back to sleep. It was a long day.